To view presentations, scroll down to AGENDA and click on presenters highlighted names.
Our 2019 conference gathered 300 people from 2 states, 30 businesses, 30 nonprofits, 35 schools & colleges, and 60 Massachusetts communities.
Conference Comments
How did the conference benefit you?
I'm already looking at the layout of my town differently, as well as the ways my neighbors and I utilize our resources and spaces. I am about to begin managing a farm at a boarding school, and I also got a lot of ideas about ways to make the farm sustainable, not only in light of environmental justice, but also sustainable for the emotional and physical well being of the school and neighboring community.
The conference was an excellent venue for sharing ideas. I came out with several ideas that I plan to research further in the hopes of implementing them in our community.
I really enjoyed learning more about the political initiatives that exist within my community and the progress that so many are making to ensure a sustainable life.
I met a lot of new people and widened my network. It gave me a better understanding of what my career path could be.
I work for a small community in Central Mass, and I will be able to take ideas being presented in the larger eastern communities and scale them to meet our needs and goals.
Bob O'Connor was hugely inspiring. I am planning to partake in as many local tree-planting events as possible after having heard about his efforts and progress.
I got insight and inspiration from what others are doing.  Not sure what changes will ultimately result, but I will be passing on information and strategies that help make decisions.
I learned a lot of new information about what other towns are doing. Since I work in municipal government I will start to bring some of those ideas into my work.
The most useful session to me was the municipal one with the Town Administrator from Arlington.
Made some good professional connections.
I learned about the Good News Network from someone – it has some great sustainability stories.
I brought six third graders and they were very empowered!
This conference helped me to better serve the campus I work for by gaining inspiration for ways to make URI more sustainable.
I was a teacher bringing students who are relatively sheltered. The experience changed them and they are more engaged in general. I am rethinking our school garden (again) and our outing club opportunities.
It raised my awareness about going green and the environment.
I learned a lot about the topics talked about.
I'll approach the idea of using solar panels.
The conference benefitted me because we learned about nature.
I learned a lot about being outside and what we are supposed to do.
Good connections and ideas for my school garden and sustainable class.
Made connections with other communities looking to see change. Will continue to work together to share best practices
Energizing and diverse presenters – appreciated the spectrum of approaches presented on sustainability from faith based perspectives, to farmers, teachers, and scientists, and activists. Presenters also did well to make their subject matter accessible – as someone without a background in policy, science or urban planning, I found the presentations on these subjects to be very clear and inviting. Not to mention energizing and practical.
I liked the diversity of the presenters and the wide spectrum of topics.
It covered a wide variety of topics. Also, I loved the energy and passion everyone had.
I will advocate for aggregate energy programs!
I do a LOT in the recycling world, but appreciated the fact that there were several different topics (TURA, energy, etc) that I didn't know about and could learn from.
I can make more informed decisions about products I use and how to dispose of them properly.
It gave me some great ideas regarding public education and outreach as well as some thoughts on sustainability initiatives for the town.
I found a lot of great resources for energy saving initiatives that I'll be sharing with my home-owning friends and I feel much better informed about what policies are working and how to advocate for them effectively in other communities.
Liked hearing from local mayors & town manager about current and future plans.
Good variety of topics, receptive and interactive presenters. I was really impressed with the undergraduate student presenters.
Every year the conference is wonderful inspiration reporting on good things happening in Massachusetts. We are certainly moving in the right direction and bringing on the value locally will accelerate the movement
I'm wiser!
Exhibitors
The Conference
The annual Sustainable Communities and Campuses Conference connects stakeholders from communities, campuses, companies, and nonprofits. Everyone wanting to learn about best practices, current trends, and resources will find this conference timely, practical and valuable.
Objectives
Learn from leading experts
Network and engage in cross-sector dialogues
Go home with knowledge and resources to advance sustainability
Participants
Government: Municipal and state elected and non-elected officials and staff
Education: University, college, training, K-12, staff, faculty and students
Business: Owners and representatives
Community: Non-profit group leaders and members
Everyone interested in learning more about sustainability
50 Presenters + a group of 6 third grade students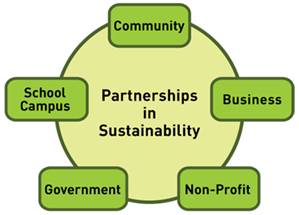 Leading experts and practitioners from communities, campuses, businesses, government, and non-profits
9 Exhibitors
Business products and services
Non-Profit organizations
Green Event Features
The conference purpose and mission
Reduced printing, packaging and conference materials
Donated unserved food to the First Parish shelter
Easily accessible by mass transit, on foot, on bike
Organic fruits, vegetables, corn chips, tea, coffee; healthy sandwich wraps and oatmeal-raisin cookies
Carbon offset for annual conference travel and building energy is a donation to a local organization. This year's donation will be to NOFA/Mass to support organic food and land care practices.
Registration Fees
The $35-$80 registration fee covers keynote presentation, breakout sessions, exhibitors, breakfast snack, lunch, and networking.
Host
An advisory team of professionals representing communities, education, business, government and nonprofits; and an on-site conference team helped with this conference which was created and hosted by Green Workforce Training.
AGENDA
Click on presenters' highlighted names to view PowerPoint presentations.
8:00-8:30 Registration, Networking 
8:40-8:55 Welcome
Henrietta Davis  Former Mayor and City Councillor, City of Cambridge
Rev. Adam Lawrence Dyer  Lead Minister, First Parish in Cambridge
Jen Boudrie  Conference Director
9:00-9:55 SESSIONS
1
Buildings and Cities
Learn about leading efforts in solar roofs, better building efficiencies, net zero energy communities, green electricity aggregation and more at the municipal level.
Ed Lewis  Energy Manager, Watertown 
Nikhil Nadkarni  Energy Planner, Cambridge Community Development
Meghan Shaw  Outreach Director, Cambridge Energy Alliance
2
Campus Student Leaders
Hear from student-project, environmental-club, and sustainability-organization leaders about interests, activities, achievements, and plans.
Abby Smurzynski  Brandeis University – Sustainability Ambassador
Simon Pereira  UMass Amherst – Clean Energy Corps
Cory Seremetis  Boston University – Environmental Justice
Will Chang  Boston University – Outing Club
Josh Taylor  Boston University – Research Class Project: Lead Water Pipes Serving Homes in Municipalities
3
Clean Energy:  Integrated Systems
Learn about communities working with utilities, utility transmission restrictions and local microgrid solutions to make local energy systems resilient, envisioning a new utility business model, integrating building and transportation energy systems, and large scale solar farm and rooftop solar trends.
James Manzer General Manager, ReVision Energy
Steven Strong  President, Solar Design Associates
Julie Lynch  Project Manager, Municipal Facilities Capital Program, Cambridge Department of Public Works
4
Faith-Based Earth Stewardship
Transforming faith into action for communities and ecology is a calling heard by all religions. Learn about progress and plans.
Rev. Adam Lawrence Dyer  Lead Minister, First Parish in Cambridge
James Nail  Executive Committee Member, Interfaith Power and Light
5
WALKING TOUR:  Smith Campus Center, Harvard University
Learn about the many sustainability features of this new one-block building with spaces that offer social, cultural, and intellectual activities. The walk is .2 miles (5 minutes) from First Parish one way.  Limited to 20 people.
Julie Crites  Director of Common Spaces, Harvard University

10:00-10:55 SESSIONS
6
Environmentally-Preferred Products and Practices
Hear from pioneers about toxic reduction strategies and educating the next generation of environmental champions.  Learn about initiatives, legislation, and cost effective purchasing choices for public health and the environment that reduce waste, noise, and toxics in our communities and on our campuses.
Rick Reibstein  Lecturer, Environmental Law and Policy, Boston University; Retired Senior Environmental Analyst, State of Massachusetts
Ken Geiser  Founder, Mass Toxics Reduction Institute; Author; Professor Emeritus, UMass Lowell
Maureen Barends  Director, Strategic Sourcing Services, Operational Services Division, State of Massachusetts
7
School and Community Collaborations
Learn about exceptional models:  1) Third-grader beach-stewards and shoreline-scientists led community action to ban single-use plastics. 2) A Sustainathon campus/community event included organic agriculture, biodiversity, water conservation, food justice, urban forestry, wildlife conservation, city sustainability, renewable energy, sustainable buildings, and waste/water recycling. 3) Green Ribbon School awards that honor environmental successes at schools.
Eric Magers  Executive Director, Seaside Sustainability
Ben Wildrick & 6 Third Grade Students VIDEO Elementary Science Specialist, Brookwood School
Reena Randhir Ph.D  Director, STEM Starter Academy, Springfield Technical Community College
Matthew Deninger  Green Ribbon Schools Program Manager, Director of Resource Allocation Strategy and Planning, Massachusetts Department of Elementary and Secondary Education
8
Food:  School Gardens and Campus Farms
The growing school garden and campus farm movement lays the groundwork for better educated students and more sustainable food choices.
Bridget Meigs  Farm Manager, Stonehill College; Coordinator, 2018 Campus Farmer Summit; Co-Chair, Campus Farmer Steering Committee, FINES Farm to Sea Campus Network
Katie Folts  Director, Educational Outreach, Mass Hort; Director, Mass Hort's School Garden Conference
Jane Hirschi  Executive Director, CitySprouts
9
Grassroots and Government
Grassroots groups are the foundation of our democracy.  Learn about the inspiring work of organizations – their missions, achievements/impacts, and goals.
Simon Metcalf  Member, Sunrise Movement
Audrey Schulman  Co-Founder and Executive Director, HEET
Kate Heffernan  Organizing Director, Environmental Voter Project
10
WALKING TOUR:  MLK School Building
Walk to a middle school in Cambridge to learn about energy and sustainability features.  This LEED Platinum, near net-zero school, is the second highest scoring new LEED-for-Schools project in the nation.  The walk is .75 miles (15 minutes) one way.  The tour will be outdoors only, not indoors. Wear walking shoes and dress for the weather.  Limited to 20 people.
Henrietta Davis  Former Mayor of Cambridge
11:00-11:55 KEYNOTE
Shaping the Future of Sustainability
Hear from extraordinary leaders about achievements and future plans.
Bill McKibben (via pre-recorded video) Author, Educator, Environmentalist, Co-Founder of 350.org
Ruthanne Fuller  Mayor, City of Newton
Marc McGovern  Mayor, City of Cambridge
Adam Chapdelaine  Town Administrator, Town of Arlington
Joan Fitzgerald Professor, School of Public Policy and Urban Affairs, Northeastern University; Author, Emerald Cities: Urban Sustainability and Economic Development
12:00-12:55  LUNCH, EXHIBITS
1:00-1:55 SESSIONS
11
State and Municipal Resilience
Learn how the state is helping communities to identify and mitigate potential hazards from facilities with chemical/toxic/waste storage near flood-prone or storm-vulnerable areas. Hear how Salem is becoming a sustainable and resilient city for the future.
Maia Rodriguez-Semp  Communications and Policy Analyst, Massachusetts Office of Technical Assistance (OTA)
Brittany Dolan  Coordinator, Sustainability and Resilience, Salem
12
Campus Sustainability Management
Sustainability managers present on innovative programs, progress, and plans for their campuses.
Claudine Ellyin  Sustainability Health & Safety Officer, Facilities, Mass College of Art & Design
David Havelick  Sustainability Manager, Harvard University
Michael Fiorillo  Member of BAC's Sustainability Council and Director of Sustainable Design, Boston Architectural College
13
Clean Energy:  Supply Chain
The process of integrating clean energy into community energy systems requires understanding regional supply chains, aggregation, grid modernization and carbon pricing legislation, a regional cooperative, and local resources available to make a clean energy infrastructure.
Joan Fitzgerald Professor, School of Public Policy and Urban Affairs, Northeastern University; Author, Emerald Cities: Urban Sustainability and Economic Development
Jennifer Benson MA State Representative, Sponsor of Grid Modernization and Carbon Pricing Legislation
Liz Argo  Manager, Cape and Vineyard Electric Cooperative
Fran Cummings Vice President, Peregrine Energy Group
14
Sustainability Changemakers
Understanding what needs to happen to make our future more sustainable goes to the heart of sustainability – food, buildings & energy.
Jack Leng  Education and Outreach Coordinator, Boston Area Gleaners
Tabitha Yeager  LEED Program Prep Specialist, EcoRise
John Rogers  Senior Energy Analyst, Union of Concerned Scientists
15
WALKING TOUR: Sustainable Urban Lifestyles
More than half our population lives in cities where work, school, shopping, and recreation are nearby. Take a walk in one of the most highly rated communities for sustainability in the nation.  Limited to 20 people.
Quinton Zondervan  Cambridge City Councillor
2:00-2:55 SESSIONS
16
Land Use
Forests, farms, and lawns are common ecosystems found in our communities. Learn about healthy soils and policy work. Also check out planning processes that chart a more sustainable future for land use in communities concerned with development.
Bob O'Connor  Forest and Land Policy Director, Executive Office of Energy and Environmental Affairs, State of Massachusetts
Lauren de la Parra  Project Coordinator, Shaping the Future of Your Community Program, Mass Audubon
17
Strong Women, Strong Girls
Hear from organizations creating opportunities for girls to learn and women to lead.
Rachelle DeCoste PhD Associate Professor, Wheaton College; Co-Founder, Summit for Women in STEM
Kristi Marsh  Founder, Savvy Women's Alliance and Choose Wiser
18
Water:  Nature-Based Watershed Solutions and Blue infrastructure Work
Emerging technologies provide cost effective alternatives to traditional, gray infrastructure.  Co-benefits include the creation of local jobs, the preservation of real estate values, and habitat enhancement.  Hear about a nationally-recognized watershed planning project on Cape Cod. Also learn about Merrimack watershed's history, modern challenges and local solutions.
Rusty Russell  Executive Director, Merrimack River Watershed Council
Scott Horsley  Founding Principal, Horsley Witten Group; Adjunct Faculty, Harvard Extension and Tufts University
19
Transportation:  EVs, Bikes
EV and biking infrastructure is on the rise in communities.  Learn about the infrastructure and resources.
Galen Mook  Executive Director, MassBike
Anna Vanderspek  Manager, Energy Programs and Drive Green Program, Green Energy Consumers Alliance
20
WALKING TOUR:  First Parish
Tour this historic 1833 meeting house with the office administrator or Environmental Justice representative to learn about sustainability features and initiatives.  Limited to 20 people.
Carol Lewis  Office Administrator, First Parish in Cambridge
3-3:30 Closing Remarks, Discussion
After brief closing remarks, engage in a discussion and activity to round out the day.
Rick Reibstein  Lecturer, Environmental Law and Policy, Boston University
3:30 END