Our 2016 Conference gathered 320 people from 9 states, 30 campuses, 35 nonprofits, 35 businesses, 60 Massachusetts communities, and more.
Conference Comments
Northampton and Amherst were good locations.
The opening with three city officials from different municipalities was informative.
I really enjoyed seeing and hearing what other communities are doing.
There were a number of impressive presenters. It was nice to have a chance to hear and ask questions.
Good mix of speakers. Manageable size. Local. Good lunch.
Great speakers. Great networking. Well organized.
Hampshire College is the epitome of a sustainable campus.
I enjoyed the community spirit of attendees and exhibitors who were able to have difficult conversations respectfully and productively.
It's wonderful to hear about the good work of so many dedicated people.
Now I'm looking more at how to transition to a fossil-free economy.
The solar presentations inspired me to work harder at helping with community-supported solar.
Thank you for this great networking opportunity, lunch, and bringing forward-thinking people together.
It was great to hear the speakers and meet people making a difference.
The Sponsors

The Exhibitors
Grassroots Groups
The Conference
The annual Sustainable Communities and Campuses Conference connects stakeholders from communities, campuses, companies, and nonprofits.  Everyone wanting to learn about best practices, current trends, and resources will find this conference timely, practical and valuable.
Objectives
Engage in cross-sector dialogues
Learn about best practices and current trends
Go home with knowledge and resources to advance community and campus sustainability
Participants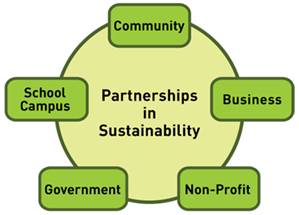 Government:  Municipal and state elected and non-elected officials and staff
Education:  University, college, training, K-12, staff, faculty and students
Business:  Owners and representatives
Community:  Non-profit group leaders and members
Everyone interested in learning about sustainability
80 Presenters  
Leading experts and practitioners from communities, campuses, businesses, government, and non-profits
20+ Exhibitors 
Business products and services
College certificate and degree programs
Non-Profit organizations
Green Event
Reduced printing, packaging and conference materials
Zero Waste includes recycling, composting, and donating unserved food
Carpooling assistance available
Carbon offset for conference travel and building energy is a donation to a local environmental organization
See more Green Event info
Registration Fees
The $0-$75 registration fee covers keynote presentation, breakout sessions, exhibitors, snacks, lunch, and networking.
Host
An advisory team of professionals representing communities, education, business, government and nonprofits; and an on-site conference team helped with this conference which was created and hosted by Green Workforce Training.
The Complete CAMPUS Program  Click on presenter's name to view PowerPoint presentation.
KEYNOTE  8:30 – 9:00 am
Sustainable Campuses
The 21st century college campus has become an incubator for opportunity and innovation that can advance the sustainability agenda.
   Steven Strong  President, Solar Design Associates   

SESSIONS  9:15 – 10:15 am
The Role of Colleges in a More Sustainable Future
Colleges today are empowered to confront energy and environmental challenges and to advance social, economic, and environmental agendas.
David Cash   Dean, Graduate School of Policy and Global Studies, UMass Boston
Peter Rosnick  Director of SAGE (Sustainable Agriculture and Green Energy) Education Center, Greenfield Community College

Research for Communities
Research and advocacy bring attention to important community concerns and engage students in the process.
   Bob Newton  Director, Center of Environment & Ecological Design and Sustainability (CEEDS), Smith College
   Elisabeth Hamin  Professor, Landscape Architecture & Regional Planning, UMass Amherst

Climate Change
In 2015 it was not just world leaders who gathered for the Paris Climate Conference. Three New Englanders were among the concerned citizens who attended. They speak here about their experience and share thoughts on the event's future impact.
   Marta Marello  Research Associate, Pardee Center for the Study of the Longer-Range Future, Boston University
Kate Devlin  Coordinator, Student Assessment, Greenfield Community College
   Aly Johnson-Kurts  Student, Economics and Environmental Policy, Smith College

Walking Tour:  Hampshire College Farm
Take advantage of this unique opportunity to tour a 100+ acre working farm on campus which produces vegetables, meat, eggs, honey and maple syrup, and has a Community Supported Agriculture (CSA) program, sustainable growing practices, and a 100% local food challenge.
   Nancy Hanson Vegetable Grower and CSA Manager, Hampshire College

SESSIONS  10:30 – 11:30 am
Sustainability Across the Curriculum
Education is no longer confined to classroom basics. Sustainability programs and campus practices that engage students may be the best source of learning.
   Tom Mauhs-Pugh Provost and VP of Academic Affairs, Green Mountain College
   Craig Nicolson  Director, Academic Sustainability Programs, Environmental Conservation & Natural Sciences, UMass Amherst
Student Presentations
Students and recent graduates describe exceptional projects on campuses and in communities.
   Tierney Bocsi Student, Mass Amherst
Chris Kane  UNH Zero Waste
   Cary White Grad '15 Conway School
   Students Four Rivers Charter School
Decarbonizing the Grid
Reduction of fossil fuels is key to climate stabilization. Hear updates on the Massachusetts Clean Energy and Climate Plan for 2020 and Mass DOER clean energy strategy.  Learn about large-scale, local, energy generation and storage projects that are complete or in the works.
   Ann Berwick  Consultant and Freelance Writer on Energy & Climate
   Dan Knapik  Director, Green Communities Division, Massachusetts Department of Energy Resources (DOER)
   Steven Strong  President, Solar Design Associates

Walking Tour:  Hampshire College, Dining Commons
Guided by the motto "food service for a sustainable future," meals on this campus are made from scratch using seasonal and sustainable ingredients.  Tour highlights include the local 'Farm 2 Fork' program and other sustainable practices.  
   Andrew Fleischer  General Manager, Bon Appetit, Dining Commons, Hampshire College

Exhibits, Lunch  11:30 – 1 pm
Lunch buffet in the Dining Commons at Hampshire College
SESSIONS  1:00 – 2:00 pm
Campus Sustainability Progress & Plans
Substantial changes are being made on college campuses where sustainability efforts are adding up. Hear from two colleges and a university making headway.
   Sarah Hammond Creighton  Director, Campus Sustainability, Endicott College
   Laura Draucker Director, Sustainability, Amherst College
   Ezra Small  Sustainability Manager, UMass Amherst

Campus Farms & Local Food
Campuses teach students about food systems and engage them in sustainable living practices.  Hear about the experiences of three institutions that engage in farming education.
   Elizabeth Hammond  Farm Manager, Green Mountain College
   Jay Leshinsky Farm Educator, Middlebury College
   Amanda Brown  Instructor, Student Farm Stockbridge School of Agriculture, UMass Amherst

The Convergence of Health and Sustainability
The health of each individual is irreversibly tied to the health of the environment and thus the planet.
   Rick Reibstein  Lecturer, Environmental Law Boston University and Harvard University Extension
   Morgan Dashko  Research Assistant, Silent Spring Institute

Walking Tour:  Solar Installation and Operations
Learn about Hampshire College's 19-acre, 4-MW solar installation planned for construction this year.  This ground breaking venture will put them on a path to be the first residential college with 100% on-site renewable electricity supply.
   Miles Hovis  Senior Manager, Project Development – Energy Storage, Solar City
   Larry Archey  Director of Facilities & Grounds, Hampshire College
SESSIONS  2:30 – 3:30 pm  
Audience-generated Themes
Let your voice be heard; share your thoughts. Participants talk together and process ideas at the end of the day.
   Facilitator: Ellie Goldberg  Director, Healthy Kids

College to Career Transitions
Navigating the journey from education to a meaningful career requires real world experience and opportunities. Career development experts share insights in this session.
Sharon Hanna  Director, Career Development and External Relations, International Development Community, and Environment (IDCE), Clark University
Sarah Klionsky  Co-op Education Faculty, Environmental Science/Studies & Marine Biology, Northeastern University
   Kevin Doyle  Principal, Green Economy

Sustainable Living
A sustainable lifestyle is made up of many components. We take a look at local food, tiny houses, biking, clean energy, social well-being, and living with less money.
   Alex Jarrett  Co-Founder, Pedal People
Sarah Hastings  Tiny House Resident and Advocate, Rhizhome
   Michael Docter  Founder, Winter Moon Organic Farm

Walking Tour:  Living Building
Opening on April 29, 2016, the R. W. Kern Center at Hampshire College is an innovative 17,000-square-foot 'living building', designed to operate completely off-the-grid by providing its own energy and water and treating its own waste.  It aims to be the sixth building in the world to achieve Living Building Certification (LBC), which requires the creation of a net-zero energy, waste, and water building. Make use of this unique opportunity to tour the building.
   Carl Weber  Associate Director, Facilities and Project Manager Hampshire College

The Walking Tours were coordinated by Jess Marsh Wisseman, Food, Farm, and Sustainability Coordinator at Hampshire College.
The Complete COMMUNITY Program
KEYNOTE PANEL  8:45 – 9:30 am
Community Sustainability Comes to Main Street
What is a STAR community? Why is Northampton, MA the top STAR community in the country?  Find out what it takes to meet comprehensive criteria for sustainable development. City leaders from the agricultural town of Conway in Western Mass, and North Adams, the smallest city in Massachusetts speak about sustainability in their communities.
Wayne Feiden (Panel Facilitator) Director, Planning & Sustainability, Northampton
   David Narkewicz  Mayor, Northampton
   Richard Alcombright  Mayor, North Adams
   Thomas Hutcheson  Town Administrator, Conway

SESSIONS  9:45 – 10:45 am
Municipal Leadership & Sustainability
Municipal administration, community, and sustainability are merging in Northampton and Conway.  Sit in on a review of master planning and sustainability policies.
   Tom Hutcheson  Town Administrator, Conway
Sarah LaValley  Conservation, Preservation and Land Use Planner, Northampton

Communicating about Climate Change
Three American participants who attended the UN Climate Change Conference in Paris in 2015, share their impressions and insights.
   Ken Kimmell  President, Union of Concerned Scientists
   Bradley Campbell  President, Conservation Law Foundation
   Sonia Hamel  Consultant, Climate Change Policy & Program

Food for All, Grown in-State
The Massachusetts Food System Collaborative envisions a robust food system and is working to implement the state's first comprehensive food system plan since 1974. Right to Know GMOs is declaring our fundamental right to know if our food contains ingredients derived from Genetically Modified Organisms (GMOs).
   Winton Pitcoff  Director, Massachusetts Food System Collaborative
   Ed Stockman  Biologist, 4th Generation Farmer, retired NOFA Mass Educator, Co-Founder of Right to Know GMOs

Emerging Grassroots Initiatives
Extraordinary efforts burgeoning at the grassroots level across Massachusetts are aimed at tackling issues such as natural gas leaks in communities, banning plastics and divestment from fossil fuels. Hear from some of the leaders.
   Audrey Schulman  President, Home Energy Efficiency Team
Brad Verter  Founder, Mass Green Network
Darcy DuMont  Founder, MassDivest

Walking Tour:  Main Street & Side Streets
Northampton, Massachusetts claims to be one of the most vibrant downtown centers in New England and boasts a large number of independently-owned businesses and socially-responsible ventures.  Enjoy a guided tour to learn about sustainability in Northampton.
   Chris Mason  Sustainability Officer, Northampton

SESSIONS  11:00 am – noon
Municipal Leaders & Sustainability
City leaders from Greenfield, Leverett and Holyoke speak about sustainability in their communities.
   William Martin  Mayor, Greenfield
Marjorie McGinnis  Town Administrator, Everett
Alex Morse  Mayor, Holyoke
Landscape Solutions
Caring for nature is essential for ecological health.  Meet three institutions with different agendas and approaches to safeguarding the environment and our well-being.
   Kurt Heidinger  Executive Director, BioCitizen
   Kristin DeBoer  Executive Director, Kestrel Land Trust
   Jeanne Kempthorne  Legal Advisor, Quiet Communities

Decarbonizing Massachusetts & the Grid: Local Solutions
'Fossil fuels' has become a dirty word.  It keeps coming up in conversations, but what are we actually doing to enable and speed up the transition from fossil fuels to renewables?
   Caitlin Peale Sloan  Staff Attorney, Conservation Law Foundation
   Lynn Benander  CEO, Co-op Power

Community Leadership & Engagement
Grassroots movements affect change at local, state and federal levels and they are finally getting the recognition they deserve. This session gathers leaders, acknowledges accomplishments and broaches ideas for broader collaboration.
   Susan Theberge  Steering Committee Member, Climate Action NOW
   Tina Clarke  Community Resilience Consultant & Transition Trainer
   Sienna Wildfield  Founder, Hilltown Families

Walking Tour:  Sustainable Development & Transportation
Join this walking tour of downtown Northampton to see why it is ranked a STAR community.
   Wayne Feiden  Director, Planning and Sustainability, Northampton

Lunch    noon – 1:15 pm 
SESSIONS 1:15 – 2:15 pm

Community & Campus Collaborations
New England has many examples of highly successful academic and community partnerships. Greenfield, MA and Antioch University New England are leading the fray in many initiatives. Hear from those at the forefront of collaborative ventures.
   Amy-Louise Pfeffer  Farm and Food Program Coordinator, Greenfield Community College
Sarah Kanabay  Project Manager, Franklin Community Coop, Greenfield Market
   Liz Suozzo Student Intern, Greenfield Community College
   Taryn Fisher Assistant Professor; Director, MBA in Sustainability, Antioch University New England

Better Building Choices
New and renovated buildings offer opportunities for more sustainable practices.  Meet a recent college graduate who built a tiny home with local materials. Meet the company that collects data to estimate annual home energy costs.  Meet a builder of net zero energy neighborhoods.
   Sarah Hastings  Tiny House Resident and Advocate, Rhizome
   Brian Butler  Co-Founder, Enerscore
   Carter Scott  President, Transformations Inc

Materials Management
Not a fashionable topic in the past, waste reduction is today an environmentally preferred practice that is getting the attention and respect it merits.
   Amy Donovan  Program Director, Franklin County Solid Waste Management District
   Christin Walth  Project Leader, Toward Zero Waste Communities

Local Sustainability and Entrepreneurship
Enterprising New England companies offer local solutions. One firm helps communities considering trail development; the other provides mentorship and accelerator programs for startups.
   Craig della Penna  Executive Director, Northeast Greenway Solutions
   Rick Feldman  Program Director, Valley Venture Mentors

Walking Tour:  Smith College Campus
What's the point of merely talking about sustainability? Get on your feet and walk across the street to Smith College to see real life sustainability practices on campus.
   Dano Weisbord  Director, Campus Sustainability, Smith College

SESSIONS  2:30 – 3:30 pm

Audience-generated Themes
Round off the day with communal sharing. Participants get the opportunity to talk through and process ideas generated during the conference.
   Ellie Goldberg  Director, Healthy Kids

Local Economic Transformation: The New Downtown Economy
Cultural and environmental solutions pay dividends in communities that recognize and encourage the diversity of their citizens.
   Paul Mark  State Representative, Massachusetts
Morgan Drewniany  Executive Director, Springfield Central Cultural District

Sustainability & K-16 Schools
Schools are often the largest budget item in towns and cities.  Education programs and facilities management can make a substantial impact in creating the next generation of citizens who will be guardians of the planet.
   Robin Organ  Executive Director, Green Schools
   Peter Dewar  Director, Professional Development, Massachusetts Association of Vocational Administrators

Environment, Health & Justice For All
A healthy environment should be a right for all; it begins with education and green jobs that lead the way to a better quality of life.
   Caitlin Marquis  Healthy Hampshire Coordinator, Collaborative for Educational Services
   Mark Tajima  Director of Operations, Energia

Walking Tour:  Local Enterprises
There's nothing like a walkabout to experience the pulse of a town.  See for yourself what makes enterprises thrive on Main Street.
   Suzanne Beck  Executive Director, Greater Northampton Chamber of Commerce

Schedule and Topics