Our 2014 Conference attracted nearly 400 in Lowell and was full in advance.  Experts and learners from 9 states, 30 nonprofits, 40 colleges, 45 companies, and 95 communities attended.
The Sponsors
Many thanks to ….
Bronze Sponsor

 

 Bronze Sponsor

 Book Sponsor
The Exhibitors
ACB Recovery – IRN Recycling
Anchor Insulation
Casella Resource Solutions
Chelsea Green Publishing
City of Lowell
Conway School of Sustainable Landscape Planning & Design
Conservation Solutions Corporation
Digital Lumens
D.R.E.A.M. Collaborative
EL Harvey
Electrical Systems Solutions
Energy & Resource Solutions
Expert Laser Services
Focused Sustainability and Vertal US Inc.
Global Awareness Local Action Community
Horsley Witten Group
Massachusetts Department of Energy Resources
Massachusetts Farm to School Project
Next Step Living Inc.
Northeast Organic Farming Association
Northern Energy Services
Power Options
Prism Energy Services
Rise Engineering
SCS Engineers
Smart Car Center Lynnfield
Solar Flair
Toxics Use Reduction Institute
UMass Lowell
UMass Boston Center for Sustainable Enterprise and Regional Competitiveness
UMass Lowell Climate Change Initiative
UMass Lowell Undergraduate Admissions
Zip Car
Student Exhibits:  Merrimack College, UMass Lowell
The Conference
The annual Sustainable Communities and Campuses Conference connects stakeholders from municipalities, college campuses, government, businesses and nonprofits.  Everyone wanting to learn more about best practices, current trends, and resources will find this conference timely, practical and valuable.
In 2014 the two conferences are held same day and location in Lowell.
OBJECTIVES
Engage in cross-sector dialogues
Learn about best practices and current trends for sustainability
Go home with knowledge and resources to improve community and campus sustainability
PARTICIPANTS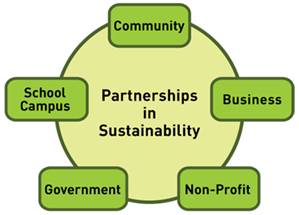 Government:  Municipal and state elected and non-elected officials and staff
Education:  University, college, training, K-12, staff, faculty and students
Business:  Owners and representatives
Community:  Non-profit group leaders and members
Everyone interested in learning about sustainability
60+ SPEAKERS  
Leading experts and practitioners from communities, campuses, businesses, government, and non-profits
35 EXHIBITORS  
Business products and services
College certificate and degree programs
Government agencies
Non-Profit organizations
GREEN EVENT 
Reduced printing, packaging and conference materials
Zero Waste includes recycling and composting
Reachable by public transportation. Info at Sustainable Transportation and Bicycling and Walking Map.
Carbon offset for all conference travel and building energy is a donation to a Massachusetts environmental group
See more Green Event info
REGISTRATION FEES
Benefit from advance registration: $60. Registration after March 20 is $75. Students are $45. Groups of 5 or more, $5 discount. Walk-ins if available, $90.
This registration fee covers keynote presentation, breakout sessions, exhibitors, lunch, breakfast, roundtable discussions, and FREE book raffle. Advance registration is recommended as previous conferences have filled.
HOST
An advisory team of professionals representing communities, education, business, government and nonprofits; and an on-site conference team helped with this conference which was created and hosted by Green Workforce Training.
THE COMPLETE PROGRAM
Click on presenter's name to view PowerPoint presentations.

8:00 – 9:00 am
Registration, Exhibits, Networking, Breakfast (baked items, fruit, coffee)
9:00 – 9:45 am
Sustainability:  Systems & Solutions
Panel Presentation:  Leaders share achievements & plans to advance sustainable development in the community & on campus.
Rodney Elliott  Mayor, City of Lowell
Joan Fitzgerald  Interim Dean, School of Public Policy & Urban Affairs, Northeastern University; Author, Emerald Cities:  Urban Sustainability & Economic Development (Panel Facilitator)
Donna Holaday  Mayor, City of Newburyport
Marty Meehan  Chancellor, UMass Lowell
10:00 – 11:00 am
Massachusetts Updates
Learn about MA Global Warming Solutions, Green Communities updates, emerging trends, & resources.
Aisling O'Shea  Global Warming Solutions Manager, Massachusetts Energy & Environment Affairs
Meg Lusardi  Director, Green Communities Division, Massachusetts Department of Energy Resources (DOER)
Sustainability & Mobility
Choices for modes of travel are expanding to meet local interests on campuses & in communities.
David Watson  Executive Director, Mass Bike
Stacey Beuttell  Program Director, Walk Boston
Daniel Fava  Smart Brand Manager, SmartForTwo EV, Smart Center of Lynnfield
Katie Emerson  Marketing Coordinator, Zip Car
Connecting Education to Community Sustainability
Existing & emerging initiatives connect education and community sustainability.
Joan Fitzgerald  Interim Dean, School of Public Policy & Urban Affairs, Northeastern University; Author, Emerald Cities:  Urban Sustainability & Economic Development
Adrian Dahlin  Director, Admissions, The Conway School of Sustainable Landscape Planning & Design
Stephanie Ciccarello  Sustainability Coordinator, Town of Amherst
Campus Sustainability
Sustainability professionals tell the story of change & progress on their campuses.
Amanda King  Director of Sustainability, Bentley University
Warren Fairbanks  Associate Vice President, Facilities & Capital Planning, Framingham State University
Carl Hakansson  Associate Professor, Framingham State University
Kaitlyn Kutzer  Sustainability Intern, Framingham State University
Paul Piraino  Energy and Sustainability Manager, UMass Lowell
Zero Waste Solutions
Reducing waste to zero is a challenge that many advocates, businesses, campuses & communities are striving to achieve.
Liza Casella  Business Development Manager, Casella Resource Solutions
Paul Connett  Author, The Zero Waste Solution
Gunther Wellenstein  Solid Waste & Recycling Manager, City of Lowell
Walking Tour:  Lowell History & Culture
Join a Lowell writer & historian for a walk.  Hear how the 'cradle of the American Industrial Revolution' has become a world-class model of urban revitalization.
Paul Marion  Executive Director, Community Relations, UMass Lowell
11:15 – 12:15
Municipal Leadership & Sustainability
City leaders are championing a variety of sustainability initiatives in their communities.
Jim Fiorentini  Mayor, City of Haverhill
Donna Holaday  Mayor, City of Newburyport
Buzz Stapczynski  Town Manager, Town of Andover
Restoring EcoSystems & Redeveloping the Built Environment
Visionaries are finding better ways to repair & build with healthy ecosystems in mind.
Wendi Goldsmith  CEO, Bioengineering
Scott Horsley  Principal, Horsley Witten Group; Faculty, Tufts University
Student Research & Projects in Communities
Students are championing important sustainability work in Massachusetts.
Jared Starr  PhD Student, UMass Amherst, Recycling in MA Communities
Amy Nyman  Graduate, Conway School of Sustainable Landscape Design, Towards Greater Food Security in Lowell
Ana Mesquita Emlinger  PhD Candidate, UMass Amherst, MA Coastal Communities, Planning, & Climate Change
Alex LaPointe  Student, UMass Dartmouth, New Bedford Mills Redevelopment
Kelly Rusch & Tiffany Blake  Students & Interns, UMass Lowell, Composting 
Sustainability Curricula & Careers
New, interdisciplinary & cross-curricular educational options offer novel career opportunities.
Adrian Dahlin  Director, Admissions, The Conway School of Sustainable Landscape Planning & Design
Marcy Yeager  Professor, Northern Essex Community College
Keith Ratner  Associate Professor, Salem State University
The World Climate Game Workshop
Take on the role of a delegate to the United Nations climate conference in a facilitated roleplaying game framed by the best available climate science.  No prior experience necessary – but come ready to make a decision that will affect generations to come.
Juliette Rooney Varga  Associate Professor, Biology; Director, Climate Change Initiative, UMass Lowell
Devan Hawkins  Student, UMass Lowell
Walking Tour:  Green Buildings
See two examples of successful urban green buildings:  a platinum LEED building & a green roof.  Reclaiming derelict & forgotten structures & re-integrating them sensitively into the urban fabric of cities like Lowell conserves both materials & energy, & in the process preserves history.
Jay Mason  Principal, Architectural Consulting Services; Lowell Green Building Commission Member
12:15 – 1:30 pm
Lunch, Roundtable Discussions, Exhibits, Networking  
1:30 – 2:30 pm 
Community Sustainability Plans & Preparations 
Each community, from urban to rural, is approaching local issues in its own way.  Hear about a city sustainability master plan, a climate preparedness report, & a small town's achievements & plans.
Leah Bamberger  Special Assistant to the Chief of Environment and Energy, Boston
Yovani Baez  Neighborhood Planner, Department of Planning & Development, Lowell
Jim Hubert  Member, Energy Committee, Ashby
Innovative Community Initiatives
Two communities are coming up with a variety of creative solutions & each has success stories to share.
Laura Kischitz  Co-Founder, Bolton Local, Bolton
Ray Pfau  Organizer, Bolton Local Repair Cafe, Bolton
Carolyn McCreary  Chair, Green Community & Energy Committee, Ayer
Energy System Solutions
Hear an overview of renewable energy solutions & cutting edge solar initiatives.
Elizabeth Youngblood  Project Manager, Mass Clean Energy Center
Steven Strong  President, Solar Design Associates
Internships & Placement
Workforce & sustainable development go hand in hand. Students gain valuable experience in the field while offering valuable knowledge & skill.
Sarah Klionsky  Cooperative Education Faculty, Environmental Science, Northeastern University
Vesela Veleva  Co-Director, Center for Sustainable Enterprise & Regional Competitiveness, UMass Boston
Toxics Reduction & Better Health
Designing toxics out of products & out of our lives is an important step to better health.
Paul Connett  Executive Director, American Environmental Health Studies Project; Author, The Zero Waste Solution, and The Case Against Fluoride

Walking Tour:  Along the Canal
Walk along the canal which forms part of the Lowell National Historical Park. 
Gunther Wellenstein  Recycling & Solid Waste Manager, Lowell  
2:45 – 3:45 pm
Grassroots & Government
Public support & government leadership for higher environmental standards can create tremendous results.  Hear from those at the forefront of this drive.
Chris Walsh  State Representative, Massachusetts
Jack Kittredge  Policy Director, Northeast Organic Farming Association of Massachusetts
Burton Jaffe  Member, Harvard Institute of Learning in Retirement; Boston Green Resident Award recipient 2008
Urban Parks & Trees
Organic landscapes & reforestation are vital to health and sustainability, even in our towns & cities.
Jesse Brackenbury  Chief Operating Officer, Rose Kennedy Greenway Conservancy
Andrew Smith  Conservation Director, City of Holyoke 
Regional & Local Food Systems
Connecting local farms to schools, community members to gardens, students to environmental stewardship, and more…
Erika Zekos  Development & Outreach Coordinator, Massachusetts Farm to School Project
Francey Slater  Co-Founder, Mill City Grows
Karen DiFranza & students  Founder, Hands to Earth, Educating for a Sustainable World
Town & Gown Best Practices
Learn about sustainability connections between communities and campuses.
Roger Kemp  Author, Town & Gown Relations:  A Handbook of Best Practices
Harvey Michaels  Lecturer, Urban Planning, MIT 
Innovative Business & Education Solutions
Caring for the earth is a the primary mission for eco-minded entrepreneurs & they are forging ahead with creative practices.
Mark Bissell  Head of Customer Success, Practically Green
Emily Richey  Capacity Building Officer, Global Awareness Local Action (G.A.L.A.)
Josh Arnold  Executive Director, Global Awareness Local Action (G.A.L.A.)
Walking Tour:  Downtown Lowell
Join a Lowell historian for a walk through downtown Lowell. Learn about the people, culture, history, politics & sustainability that make the city a revitalized success today.
Dick Howe   Middlesex North Register of Deeds; Author, Legendary Locals of Lowell
3:45 – 4:30 pm
Exhibits, Networking  
NOTE:   Walking tours begin & end at the UMass Lowell Inn & Conference Center
SCHEDULE & TOPICS