AGENDA
June 26, 2020
9:00 KEYNOTE
Municipal Leadership
Local leaders are working hard to manage pandemic challenges, and many do that with sustainability and social justice in mind. Communities with strong social, environmental, and economic and infrastructures are likely to be more resilient during a crisis.
Joan Fitzgerald Professor and Director of Urban and Public Policy, Northeastern University; Author of Greenovation: Urban Leadership on Climate Change
Yvonne Spicer Mayor, City of Framingham
Adam Chapdelaine Town Manager, Arlington
9:30
Community and Campus Sustainability
Sustainability covers a wide variety of interests to make communities and campuses more resilient – socially, environmentally, and economically.
Joyce Losick Yang Sustainability Coordinator, Andover
Carole Collins Director of Energy and Sustainability, Greenfield
Michael Fiorillo Director of Sustainable Design, Boston Architectural College
10:00
Energy Developments
Clean energy is key for healthy, sustainable communities. The benefits of energy security, financial savings, and better health are clear. So what are the developments in clean energy today? What does the future hold?
Liz Argo Executive Director, The Cape & Vineyard Electric Cooperative
Haskell Werlin Government Affairs, Solar Design Associates
10:30
Health and Sustainability
Health and sustainability go hand in hand in so many ways. Hear from experts and learn about better health practices in our communities.
Rick Reibstein Lecturer, Environmental Law, Northeastern University and Harvard University Continuing Education
Kirstie Pecci Senior Law Fellow, Conservation Law Foundation
Liz Harriman Deputy Director, Toxics Use Reduction Institute at UMass Lowell
11:00
Recruiting and Hiring for Diversity
Learn about best practices for recruiting and hiring, and check out opportunities for diversity from experts in the field.
Michelle Waters-Ekanem Director of Diversity and Civil Rights, Massachusetts Department of Environmental Protection
Stephen Pereira President, Massachusetts Partnership for Diversity in Education www.mpde.org 
Kerry Bowie Managing Partner, Msaada Partners
11:30
Community Farms and Gardens
The growth in the number of community farms and gardens in recent years is extraordinary. Urban gardening, land protection, social organizing, and a desire for fresh local food are inspiring.
Michelle de Lima Engagement Manager, Boston Community Gardens, Trustees of Reservations
Amy Tarlow-Lewis Founder and Board Member, Littleton Community Farm
Noon
Sustainable Living
Let's have some fun! Audience Introductions!
GREEN EVENT FEATURES
The event promotes best practices for sustainability – social, environmental, and economic
Free for all participants
No travel emissions
Zero waste
No event-building energy use
9 sheets of paper which will be recycled
Small amount of (partly renewable) electricity to run computers, iPads, or phones of all who participated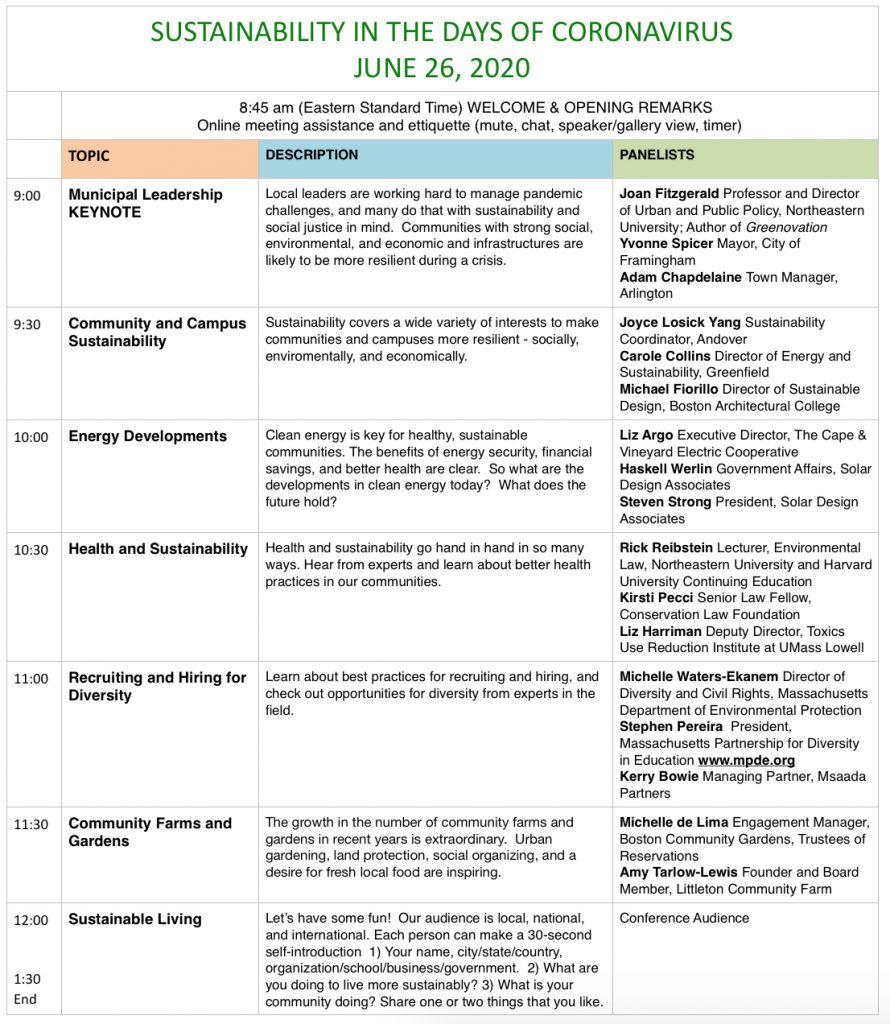 You should have received a link to join this online event if you pre-registered.
See Online Event Rules below.
1) Be on mute at all times during the conference.
2) Your name should appear under your image. If not, put your cursor on your image, look for the 3 dots, click rename, and enter your correct name.
3) New to online meetings? You can find online meeting info and etiquette info on the web, or email conference director, jenboudrie@gmail.com if you have a question.
4) Stay to the end and introduce yourself! Audience introductions are at noon. (See agenda above.)
5) No disruptions or interruptions during the conference, please! Disrupters will be removed at the discretion of the conference director.

Thank you for attending the conference!