THE CONFERENCE
The annual Sustainable Communities and Campuses Conference connects stakeholders from municipalities, college campuses, government, businesses and nonprofits.  Everyone wanting to learn more about best practices, current trends, and resources will find this conference timely, practical and valuable.
In 2015 the two conferences are held same day and location in Devens.
OBJECTIVES
Engage in cross-sector dialogues
Learn about best practices and current trends for sustainability
Go home with knowledge and resources to improve community and campus sustainability
PARTICIPANTS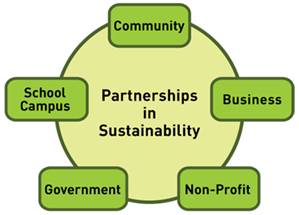 Government:  Municipal and state elected and non-elected officials and staff
Education:  University, college, training, K-12, staff, faculty and students
Business:  Owners and representatives
Community:  Non-profit group leaders and members
Everyone interested in learning about sustainability
55 SPEAKERS  
Leading experts and practitioners from communities, campuses, businesses, government, and non-profits
35 EXHIBITORS  
Business products and services
College certificate and degree programs
Government agencies
Non-Profit organizations
GREEN EVENT 
Reduced printing, packaging and conference materials
Zero Waste includes recycling and composting
Carbon offset for all conference travel and building energy is a donation to a Massachusetts environmental group
See more Green Event info
REGISTRATION FEES
Benefit from advance registration: $60. Registration after March 20 is $75. Students are $45. Groups of 5 or more, $5 discount. Walk-in if space is available, $90.
This registration fee covers keynote presentation, breakout sessions, exhibitors, lunch, breakfast, roundtable discussions, and FREE book raffle. Advance registration is recommended as previous conferences have filled.
HOST
An advisory team of professionals representing communities, education, business, government and/or nonprofits; and an on-site conference team helped with this conference which was created and hosted by Green Workforce Training.