The 2018 conference location is: Hotel 1620, 180 Water Street, Plymouth, MA.
Directions
Parking
FREE parking is available behind Hotel1620 (not the waterfront side) near the conference entrance.
Carpooling
Carpooling is encouraged and assistance is provided upon request. Contact jenboudrie@gmail.com at least two weeks before the conference if you have carpool/travel questions.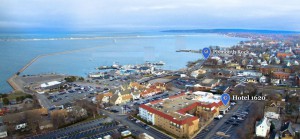 PHOTO:  Hotel 1620, downtown Plymouth by the bay.
Train  Commuter train route and schedule
Bus  Regional bus route and schedule
UBER  From Plymouth train station to Hotel 1620, downtown Plymouth
Accommodations  Hotel1620 or Google "hotel Plymouth MA" to find several nearby choices
Attractions  Local attractions
Map  Google Map
LUNCH
The conference includes lunch: a delicious vegetarian sandwich wrap and cookie.
If you'd like a coffee, breakfast, snack, chicken/fish/meat/glutenfree lunch, and dinner
you can purchase them at venues below.  Click to see menus.  Numbers correspond to map.
1 Hotel1620
You can purchase coffee and breakfast here.
The cafe is open 6:30-9:30am.
Also check out #2 and#5 below for coffee & breakfast.
Snack, alternative lunch, dinner options are:
2  Local Yolk
3  Waterfront Grill
4  Blue-Eyed Crab
5  Cupcake Cafe & Coffee
5  Fedele's Chocolate Shop
6  Patrizia's
7  Peaceful Meadows
8  East Bay Grille
9  Cabby Shack
10 Lobster Hut
11 Anna's Harborside
12 Al's Pizza
13 Wood's Seafood
14 Cupcake Charlies