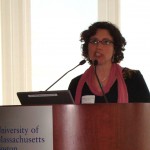 We welcome best practices, research, and resources for campus and community sustainability.
Please email your name, title, organization, contact information, and 100-250 word session proposal before December 20, 2015 to jenboudrie@gmail.com.  Proposals received after December 20 will be considered but early ones have priority.  The student proposal deadline is February 19, 2016.
Specify which day you would like to present:
April 15, 2016    Hampshire College
April 16, 2016    Northampton, MA
Possible topics:
CAMPUS and COMMUNITY SUSTAINABILITY
A project that connects campus and community sustainability
Student projects in communities
Faculty research
Alumni-supported initiatives
Internships and job placement opportunities in communities
A community and campus partnership success story
Campus support to implement community action plans
Emerging "Town and Gown" sustainability relationships
Topic of your choice
SUSTAINABILITY ON CAMPUS
The campus as sustainability learning lab
Virtual tour of campus sustainability practices
Sustainability measures and metrics (energy, food, green building, pollution reduction, land use, materials, transportation, etc.)
Sustainability across the curriculum
Local food on campus
Mobility:  walking, biking, transit, ride share, fuel efficient vehicles
Getting to zero waste:  refuse, reduce, reuse, recycle, restore, compost
Investment, divestment, and purchasing power options
Student leadership and movements
Communicating about climate change and sustainability
Curriculum Frameworks, STEM, and education for a more sustainable future
Climate mitigation, adaptation, resilience
Social equity
Alumni influences on campus and community sustainability
College to career sustainability connections
Incubators for gigs and entrepreneurs
Workforce development and sustainability opportunities
New paradigms for career preparation
Resources to improve campus sustainability
Topic of your choice
SUSTAINABILITY IN COMMUNITIES
Management
Sustainability practices on Main Street
Land use:  energy, building, food, water, transportation, parks/conservation
Sustainability planning and implementation in communities
Assessment tools
Sustainability Master Plans for desirable places to live, work, play:  safety, environment, health, historical significance, diversity, parks/recreation, public transit, complete streets, trees, housing, vibrant downtown/neighborhood centers, and more
Applying new standards and policies
Future frontiers in community development
Green economic development
Social justice:  policies, practices, resources
Environmental protection, health and safety
Government and grassroots engagement
Inspiring and motivating people:  project-based organizing, champions, events
What motivates municipal leaders to foster sustainable development?
Energy
Renewable energy systems
Smart grids and microGrids
Conservation & efficiency:  saving energy and money
Carbon pricing
Net metering
Net-zero-home-energy neighborhoods
Net-zero-community plans
Green Communities, community solar, green aggregation
Fossil fuel infrastructure problems and solutions: pipelines, fuel leaks, pollution
Expanding clean energy incentives
Food
Pioneer Valley farming and food
Local, organic farming
Community farms, gardens & orchards
Co-ops, farmers markets, farm to school, farm to table
Food for all:  safety & security
Food rescue
Landscapes & Water
Limited Impact Development (LID) benefits
Green infrastructure:  trees, parks, reduced chemicals and watering in recreation fields and yards, edible landscapes, rain gardens, vertical gardening
Water resources:  protection and management
Transportation
Multi-modal transportation options
Mobility infrastructure:  complete streets, public transit, biking, walking, fuel efficient vehicles
Walkable, bikeable neighborhoods
Materials
Zero waste
Resource management and closed loop systems
Green procurement as a sustainability driver
Plastic bans in communities
Green Economic Development
Economic growth based on sustainable development strategies
Reinvesting in community by supporting local businesses
Social Justice
Opening the doors of access and opportunity to all
Meaningful engagement of people regardless of race, color, national origin, faith, income, age, or sexual orientation
Advocacy for environmental justice issues in neighborhoods
Other
Tours & tourism
Demonstration projects
Green chemistry
Health and the Environment
Schools:  Safe Routes to School, Green Schools, life-long-habits education
Climate change:  community adaptation and resilience plans
Restoring ecosystems
Working with local campuses
Business products and services dedicated to sustainability
Nonprofit and community organization advocates for sustainability/environmental health
Cooperatives in communities
Industries going green
The politics of sustainable development (advocacy > politics > education > business)
Resources to improve community sustainability
Topic of your choice